Thanks for finding Percy and his Gran a new home in the Merri


The project has now closed!!!! Thankyou to everyone who has pledged to reach our stretch target of $18000 target! With this money we will be installing a number of new fish hotels in the Merri River for Percy, Gran and his mates. As promised the CMA will match the initial funding target so we can double the amount of fish hotels plus continue to improve the river bank vegetation. This is a fantastic outcome for the Merri River and for Warrnambool!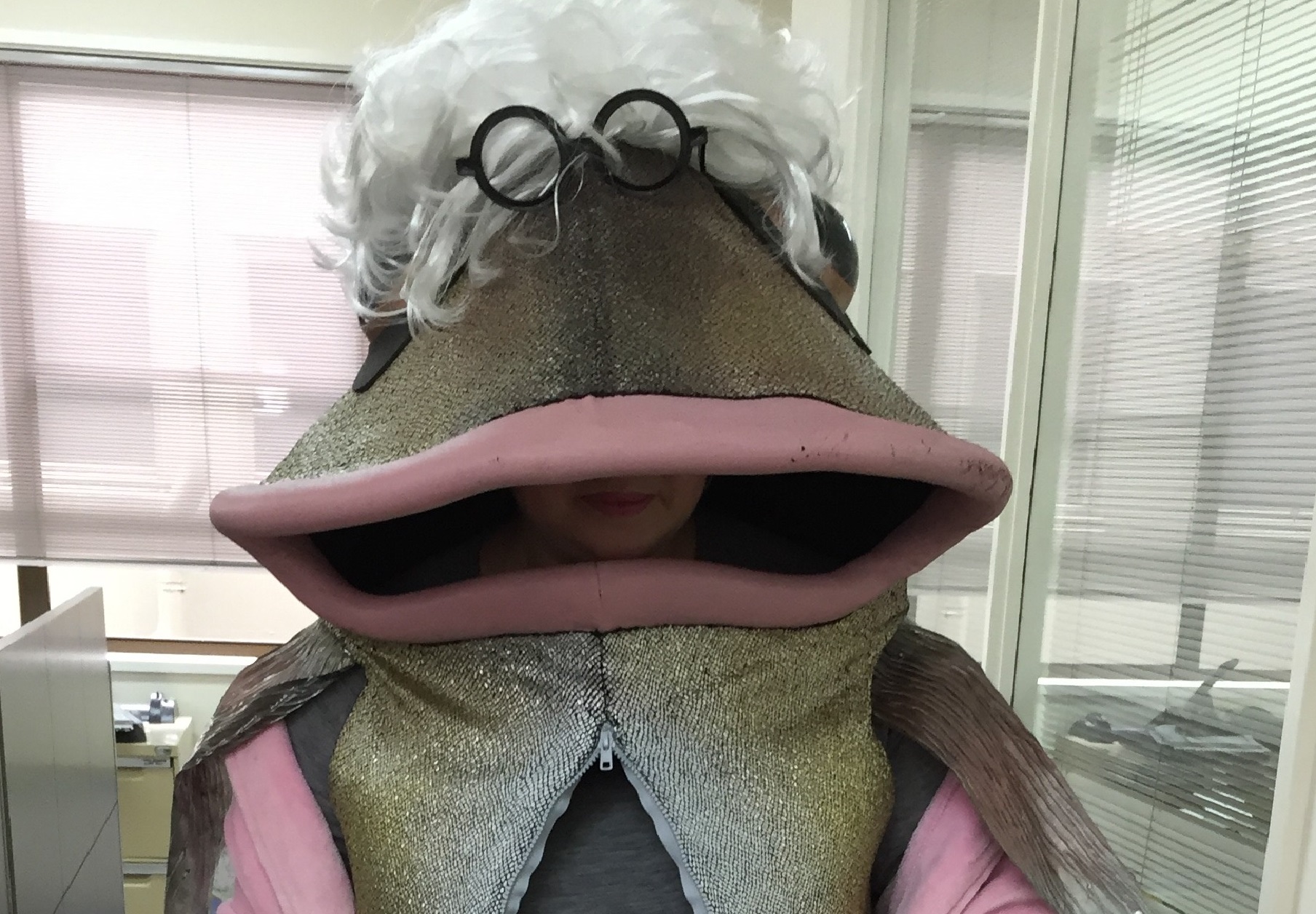 The funds raised will be used to place a range of new 'fish hotel' habitats such as logs, rocks and native trees which are really important to help fish survive, grow and breed. With the addition of fish 'hotel' habitat and the improvement of river bank vegetation, the Merri has the potential to become an incredible natural and recreational asset and an exceptional fishing location for the community and visitors to south west Victoria.
Percy the estuary perch needs a new home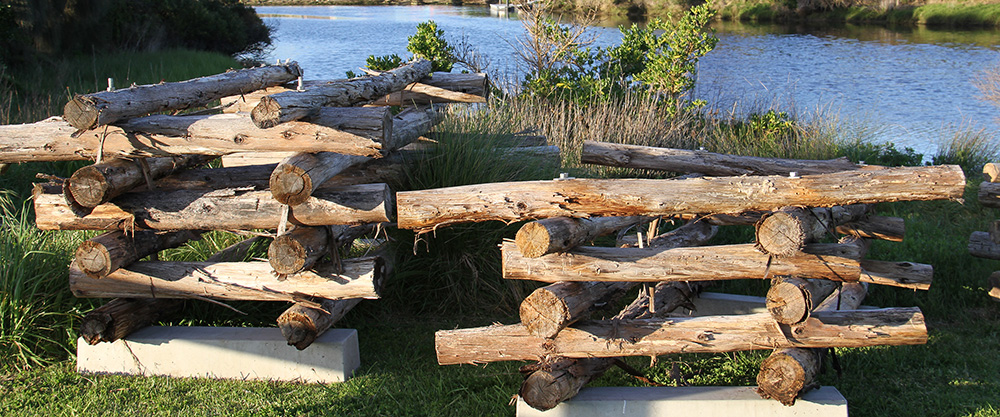 Fish Hotels
Estuary perch offer one of the best fishing experiences in south west Victoria. Catching this hard fighting fish is an exciting and rewarding challenge but currently the Merri River through Warrnambool, Victoria has very limited habitat for native fish such as estuary perch.
"This project is a great way to increase angler awareness of the importance of habitat for fish. More fish hotels in our rivers means more fish to catch" Merv Hughes, from Merv Hughes Fishing
Your Contribution
Through your support, we can help increase fish habitat – which in turn will significantly boost estuary perch numbers as well as improve angler opportunities.
In return for a pledge you will get rewards such as fishing packs, books, electrofishing experiences, fishing charters, canoe tours, cultural heritage tours, and much more. Or if you prefer a tax receipt, pledges are also tax deductible through the Australian River Restoration Centre. The 'Big Fish Hotels' project also has 3 giveaways for pledges over $5+. If you pledge $50+ you can go into all 3 competitions! See below:
Any pledge $5+ goes into a draw to win a $500 fishing pack from My Fishing Place (MFP)
To enter follow these steps:
Go to My Fishing Place on Facebook and like the post with the Merv Hughes image below (if you haven't already done so)
Click the Pledge button on the Big Fish Hotels project on this Pozible site and pledge $5+. Click the $2+ tax deductible button and change $2 to $5. You will then be asked to register your details - that's so we can send you the fishing pack if you are the winner!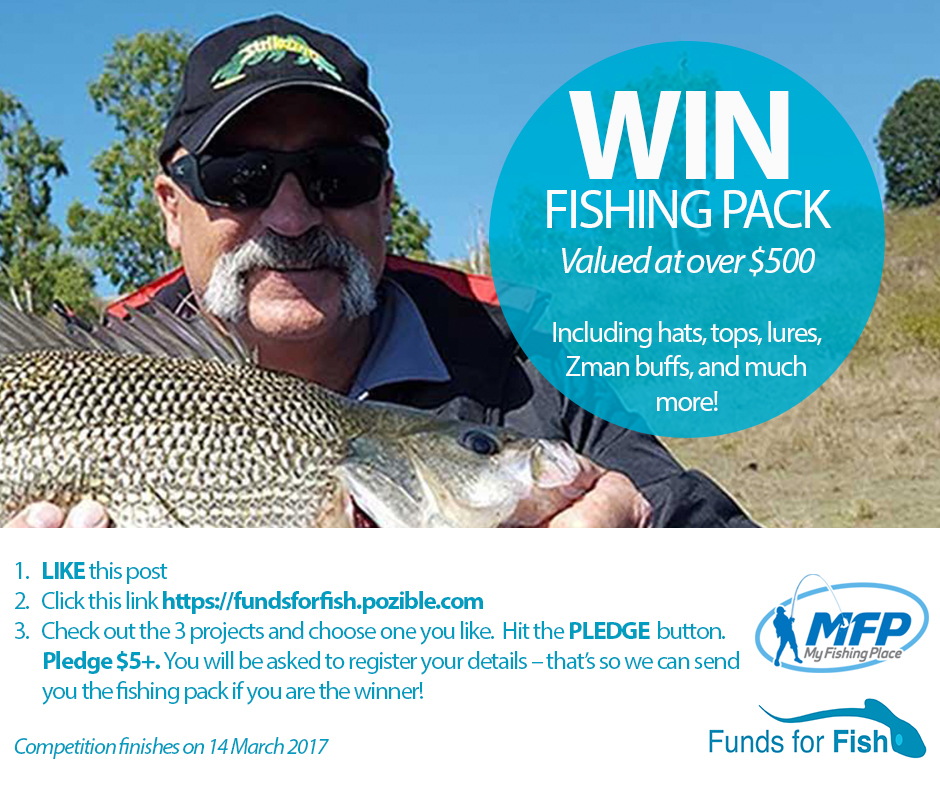 A pledge of $20+ also goes into a draw to win a Shimano Nasci 2500 reel valued at $200




A pledge of $50+ also goes into a draw to win a Hero GoPro camera valued at $300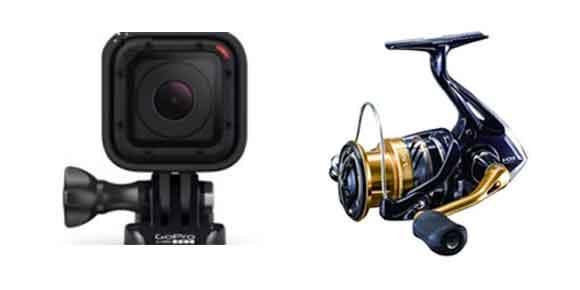 Thanks to all the supporters of the project so far. Big thanks to Reeves Bakery, Adz Weld Fabrications, Riverland Estate, Midfield Group, Water Technology, Fishcare Victoria, Fonterra, OzFish Unlimited and Ventia who pledged $1000%20 each to the campaign. Austral Research and Consulting also pledged $1000%20 in-kind support for an electrofishing experience. They all receive naming rights to the nine hotels that are installed in the Merri River. If you want to purchase a fish hotel from the 'Merri Reel Estate' a pledge of $1000 will buy a hotel, plaque and also significant promotion in media.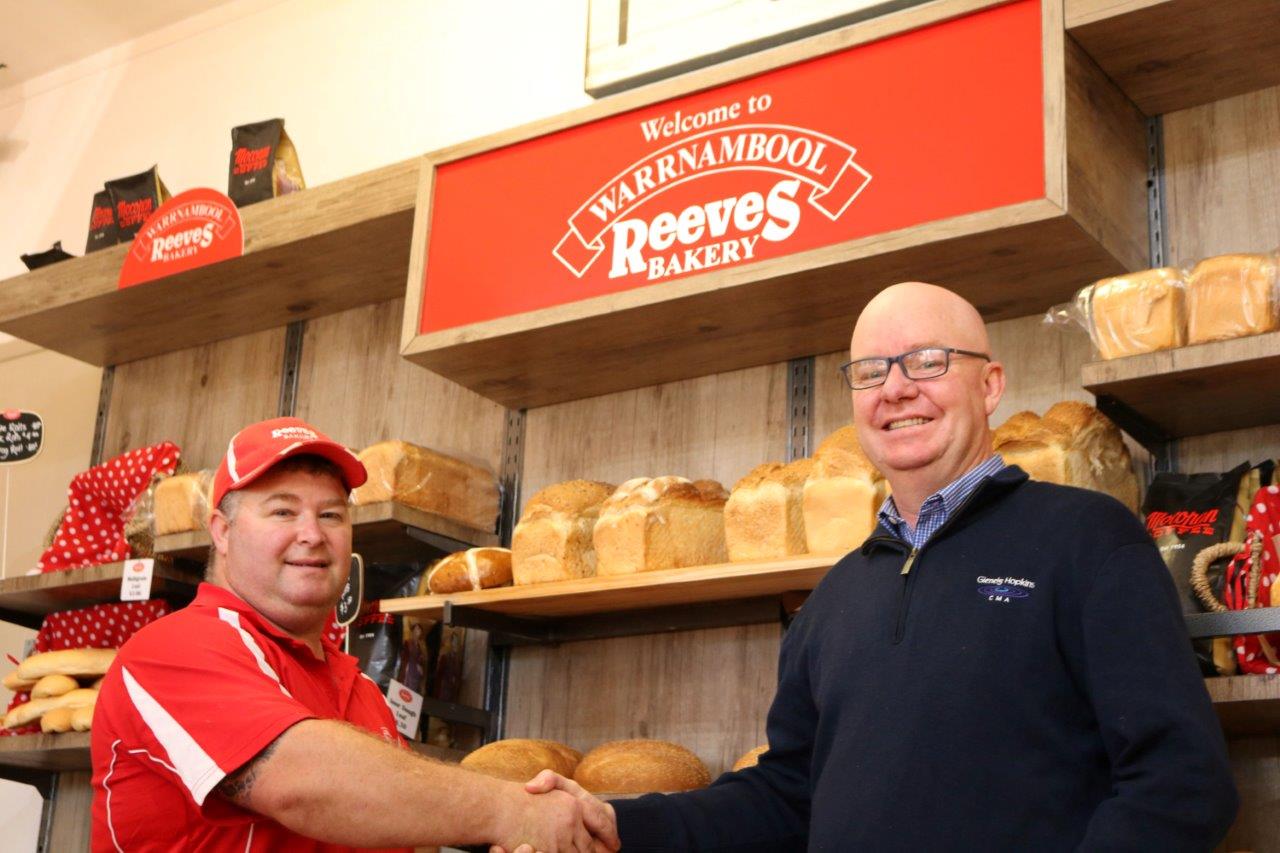 Darryl Laing at Reeves Bakery with Steve Ryan, thanking Darryl for their $1000 pledge
How The Funds Will Be Used
WITH YOUR FUNDING SUPPORT, THE GLENELG HOPKINS CMA WILL:
Source and install fish habitat along the lower Merri River including 7 wooden fish hotels and 5 rock hotels
Every dollar the community contributes up to the target value, the Victorian Government will match two-fold, providing additional habitat and stream bank restoration
In all, we are seeking $12000 in funding to put towards fish habitat, weed control and river bank tree planting
As well as the warm fuzzies you'll get knowing you've made a meaningful and lasting difference to your community and local river, donating to the cause allows you to access some excellent rewards including fishing packs, books or experiences such as personalised fishing trips and canoe tours.
STRETCH GOAL
Its pretty simple – the more money we raise the more accommodation we can build for our native fish. For example, if we can raise $18,000, we will install a total of 10 wooden and 8 rock hotels.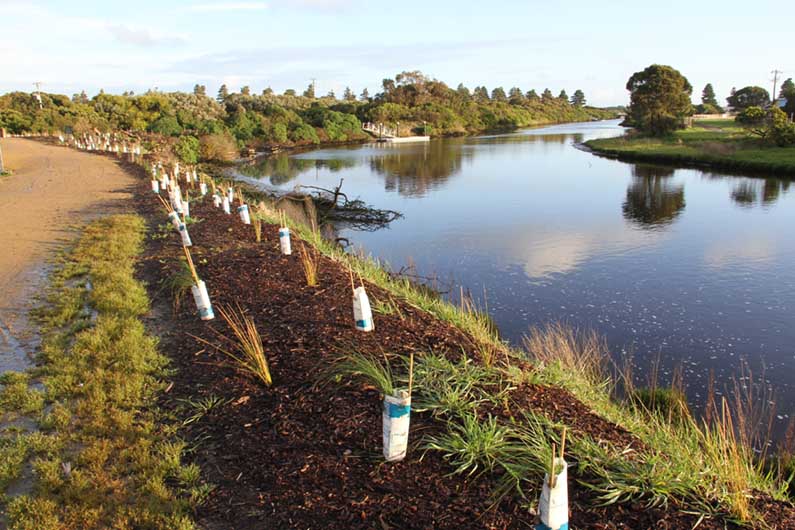 The Challenges
WHAT WE KNOW ABOUT ESTUARY PERCH
Estuary perch are a high valued and popular angling species.
Habitat degradation is the primary cause of decline. Populations have become isolated due to urbanisation, desnaggging, changed hydrology as well as climate change.
There is a strong interest from the angling community to increase their recreational experience.
WHAT IS CURRENTLY BEING DONE
This project is just one of many happening on the Merri River to improve river health and angling opportunities. Glenelg Hopkins CMA, Warrnambool City Council, Warrnambool Coastcare Landcare group, Wannon Water, Warrnambool Offshore and Light Game Fishing Club and the Arthur Rylah Institute and a number of local community based groups are carrying out additional works to improve riverbank vegetation and fish habitat. As well as providing essential fish habitat, the works will provide new open points for fishing access and river views.
Our floating fish pontoons upstream of Harris Street bridge have been a great success and we will continue seeking funds to install more upstream.
Last year works were done to install Fish Hotels in the lower Merri River which had an instant response from species such as Estuary Perch, Black Bream, Australian Salmon and mullet. Two 45 cm Estuary Perch were recently caught just around one of the Fish Hotels installed in the lower Merri River estuary! (one of these is in the photo below!)
THERE'S STILL WORK TO BE DONE!
However this is just the start and much more work needs to be done to bring our recreational fish species back in big numbers. The more habitat we put in the river means we can better support our fish populations and improve opportunities for people to catch fish.
This new crowdfunding initiative is not just focusing on anglers but also other recreational users, businesses and tourists that have an interest in improving the health of our local rivers. Local communities and anglers can be very effective in making big changes to the local waterways and through this crowdfunding campaign they can see that their funds are going directly into the waterways they are passionate about.

Instream habitat works will be carried out along the lower Merri River. With the help of public funding, matched by GHCMA matched funding, we'll source and install 7 wooden fish hotels and 5 rock hotels.

Stream bank planting works will also be carried out as part of revegetation and site preparation.

In all, we are seeking $12000 in funding to put towards instream habitat, weed control and river bank plantings to find a new home for Percy and other estuary perch on the Merri River.